SNAX-Sational Brands Debuted Latest Brand Expansion in Walmart Stores, Cereal Pop FRUITY PEBBLES®, Ahead of Super Bowl
Cereal Pop Popcorn Made With FRUITY PEBBLES® Cereal Officially Launched In Walmart, Popping Off At Super Bowl Weekend In Arizona As Hottest New Popcorn Snack
EIN Presswire
Feb 16, 2023, 5:12 PM ET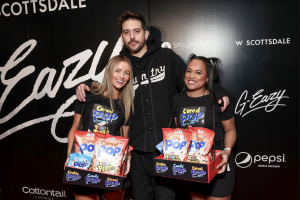 Cereal Pop Promo Models Pose With G-Eazy at W Scottsdale Super Bowl Party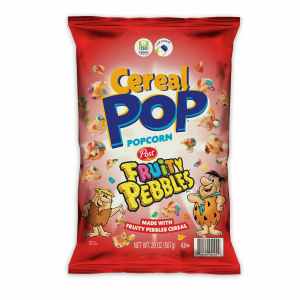 Cereal Pop Fruity Pebbles 5.25 oz popcorn bag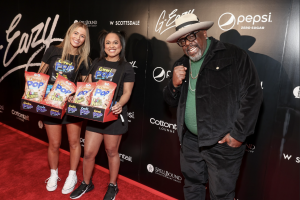 Cedric the Entertainer poses with the Cookie Pop, Candy Pop, and Cereal Pop promo girls at W Scottsdale
We're excited to continue our partnership with SNAX-Sational brands and bring the delicious PEBBLES taste to popcorn."
— Leah Broeders, Head of Licensing for PEBBLES cereal
ORLANDO, FL, UNITED STATES, February 16, 2023 /EINPresswire.com/ -- SNAX-Sational Brands' premiere popcorn brand, inclusive of Cookie Pop and Candy Pop, has officially expanded its portfolio offerings and further innovate the snacking aisle with Cereal Pop, their newest debut featuring America's favorite go-to cereal treat, this February at Walmart stores in a 5.25 oz bag timed to Super Bowl weekend with a full roll out nationwide.
Following activations in Arizona with W Scottsdale, Cereal Pop popcorn made with FRUITY PEBBLES was featured at some of the hottest Big Game weekend events, with performances by G Eazy, Rick Ross, Ludacris and Cardi B, who was already a long time fan of Cookie Pop. The new flavor profile was enjoyed by VIP attendees, wowing the partygoers with its exciting real cereal flavor now on delicious, low calorie popcorn.
Cereal Pop popcorn made with FRUITY PEBBLES® has now finally arrived for 2023 as the highly anticipated brand expansion joining the ranks with Cookie Pop and Candy Pop. SNAX-Sational Brands spent the last year developing their new category expansion, aligning with Post Consumer Brands, known for their iconic and delicious cereal portfolio, to bring a new level of excitement and flavor variety to their popcorn offerings.
After creating much buzz at the January 2023 Winter Fancy Foods Show in Las Vegas, Cereal Pop made with FRUITY PEBBLES® hit shelves officially at Walmart retailers nationwide this past week and premieres on Walmart's e-commerce website March 1.
Celebrity guests enjoying the popcorn snack included headlining performers G-Eazy, Cardi B. and Ludacris, as well as celebrity attendees Cedric The Entertainer, Mario Lopez, Foodgod, Scott Eastwood, Colin Egglesfield, Camille Kostek, and many many notable athletes and sports stars, as well as The Bachelor/Bachelorette stars like Chad Johnson and Dale Moss at the bashes held on February 9-11th at W Scottsdale in Arizona. The celebrity performers enjoyed the popcorn snacks in their green rooms, while guests at the parties were treated on their vip tables.
"We are so excited to roll out our all new product line, Cereal Pop – Cereal Pop popcorn made with FRUITY PEBBLES® cereal – with incredible retail giant Walmart. We have worked so hard to perfect this new popcorn variety which features the signature cereal flavors' authentic pieces and taste profile, for a delicious popcorn combo. This is a moment of true innovation for our brand and we look forward to seeing both flavors on the shelves of Walmart nationwide." - Jerry Bello, CEO, SNAX-Sational Brands Group
"The PEBBLES brand is always looking for ways to diversify our offerings to go beyond the cereal bowl," said Leah Broeders, Head of Licensing for PEBBLES cereal. "PEBBLES fans turn to their favorite cereal not only for breakfast, but also as a crunchable snack, so we're excited to continue our partnership with SNAX-Sational brands and bring the delicious PEBBLES taste to popcorn."
Just in time for National Snack Month this February, Cereal Pop made with FRUITY PEBBLES® cereal, and as the perfect Super Bowl snack, its first flavor edition, is available to consumers nationwide, first to to retail on shelves at 5.25 oz at Walmart and and in their ecommerce store in a 5.25 oz bag.
SNAX-Sational Brands' established premiere power duo Cookie Pop and Candy Pop, continues to be the innovative popcorn snacking leader combining everyone's favorite things; ready-to-eat popcorn featuring America's cookie and candy favorites, yielding the perfect, must-have snack creation, and now, adding Cereal Pop to their portfolio. The better-for-you-snack is made 100% in the U.S. with non-GMO corn, is low in sodium and only 150 calories per serving. The popular, low-calorie, cookie or candy-coated line was named a "Top 20 Snack" by Buzzfeed and continues to garner attention amongst consumers, media and celebrities, from Cardi B. to Lance Bass.
ABOUT PEBBLES CEREAL
PEBBLES™ cereal is a timeless breakfast classic that families have enjoyed for over 50 years. Launched in 1971 after Post secured licensing rights from Hanna-Barbera, PEBBLES™ cereal was the first brand ever created around a TV show character. One of the most revered cartoons of all time, "The Flintstones" aired on prime-time television from 1960 to 1966, and the characters have returned in countless specials and films. The cereal was named for Fred and Wilma Flintstone's daughter Pebbles. For more information on PEBBLES™ cereal, visit www.postpebblescereal.com.
ABOUT CEREAL POP
SNAX-Sational Brands Group premiere popcorn brand has introduced its newest portfolio expansion with the addition of Cereal Pop. Officially launching as of February 2023, it will join sister brands Cookie Pop and Candy Pop as America's #1 popcorn treat, featuring flavors Cereal Pop made with FRUITY PEBBLES® and Cereal Pop made with COCOA PEBBLES® cereal. Parent company POST® Brands are the leader in the breakfast cereal industry as a sweet & fruity pioneer, combining delicious signature dessert flavors on cereal, and now, offering this proprietary treat on popcorn - low-sodium, non-GMO corn - at only 150 calories per serving. With their retail partner Sam's Club for the first official introduction of Cereal Pop made with FRUITY PEBBLES® cereal in the club sizel, with the brand to debut their latest licensed varieties in this new popcorn category into Walmart for February 2023 in their classic 5.25 oz, followed by a March introduction in Publix stores of both Cereal Pop flavors, FRUITY PEBBLES® and COCOA PEBBLES®. in the 5.25 oz size. Follow @CookiePop_CandyPop #CerealPop on Instagram and TikTok for news and updates, and visit the brand's website inclusive of their e-commerce shop online at www.cookiepopcandypop.com
ABOUT COOKIE POP AND CANDY POP
SNAX-Sational Brands Group premiere popcorn brands, Cookie Pop and Candy Pop, are composed of the popular Cookie Pop and Candy Pop varieties. The favorite popcorn brand includes flavors such as Cookie Pop with OREO®, Cookie Pop made with CHIPS AHOY!®, Candy Pop made with TWIX®, Candy Pop made with SNICKERS®, Candy Pop made with M&M's® Minis, Candy Pop, Candy Pop made with Peanut M&M's®, and their latest flavors, Cookie Pop made with NUTTER BUTTER® and Candy Pop made with SOUR PATCH KIDS®.
---